Beginners Yoga Course in Rishikesh, India
Immerse yourself in traditional ashram life in Rishikesh and learn from experienced instructors who will teach you the basics of yoga.
Abhayaranya Yoga Ashram offers residential beginners yoga courses in India. These courses are for beginners who want to learn yoga methodically and in an authentic traditional way. As well as for those who have learned yoga online or have been doing self-practice without much guidance.
In this yoga for beginners course, we have a deep focus on posture alignment and adjustments for which you will have a class with a trained teacher. Also, emphasis is on pranayama (conscious breathing) while entering into a posture, holding the posture and coming out of it etc.
Course Overview
| Course Name | Yoga for Beginners |
| --- | --- |
| Level | Beginner |
| Duration | 1 Week & 2 Weeks |
| Accomodation | Private & Twin-Shared Room |
| Food | 3 Vegetarian meals per day |
| Language | English |
| Venue | Abhayaranya Yoga Ashram |
| Location | Rishikesh, India |
| Nearest Airport | Dehradun, India |
Yoga for beginners course is specifically designed for those who want to go deep in their self-practice however have no desire to be a certified Yoga Teacher. This course will have focussed classes on Yoga asana twice a day, along with Mantra chanting, yogic cleansing, pranayama and meditation as a daily routine.
The most important class for you would be specially designed Yoga alignment and adjustment classes that will guide you and make you more self aware of your physical practice. Also, will consider any physical limitations, focus area etc while practicing each adjustment, variation and alignments specific to your unique body type.
Yoga Course for Beginners - Duration & Fee Details (2023 - 24)
One Week Beginners Yoga Course in Rishikesh
Two Weeks Beginners Yoga Course in Rishikesh
What is Included?
Yoga, Pranayama & Meditation practice

Yogic cleansing and mantra chanting

Asana alignment and adjustment class

Introduction to Ayurveda and Yoga Therapy

Shared or private air-conditioned rooms (usage as per policy)

3 Vegetarian meals per day + tea/coffee

A head/face massages (options available to choose one)
We do have an onsite Ayurveda doctor whom you can consult for any Ayurveda therapy/treatment for generic check well being or for anything specific if needed. Any Ayurveda treatment will incur the additional cost based on which therapies you undergo.
Learn the Fundamentals of Yoga in This Special Beginners Course at Abhayaranya Yoga Ashram.
Book Now
Yoga Classes in Rishikesh, India
Asanas, Pranayama, Meditation, mantra chanting, yoga discussion, and yogic cleansing are part of the daily yoga classes for beginners.
| Time | Activity |
| --- | --- |
| 06:00 am | Wake up |
| 06:30 am to 06:45 am | Yogic Cleansing (Jalneti) |
| 06:45 am to 07:00 am | Mantra Chanting |
| 07:00 am to 08:30 am | Asana, Pranayama and Meditation |
| 09:30 am | Breakfast |
| 11:00 am to 12:00 pm | Asana Alignment classes |
| 12:00 pm to 01:00 pm | Discussion of various yoga-related topics |
| 01:30 pm | Lunch |
| 05:00 pm to 06:30 pm | Asana and Meditation |
| 07:30 pm | Dinner |
| 10:00 pm | Lights Off |
Abhayaranya Yoga Ashram in Rishikesh, India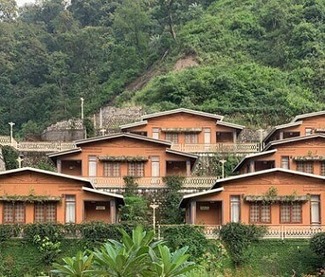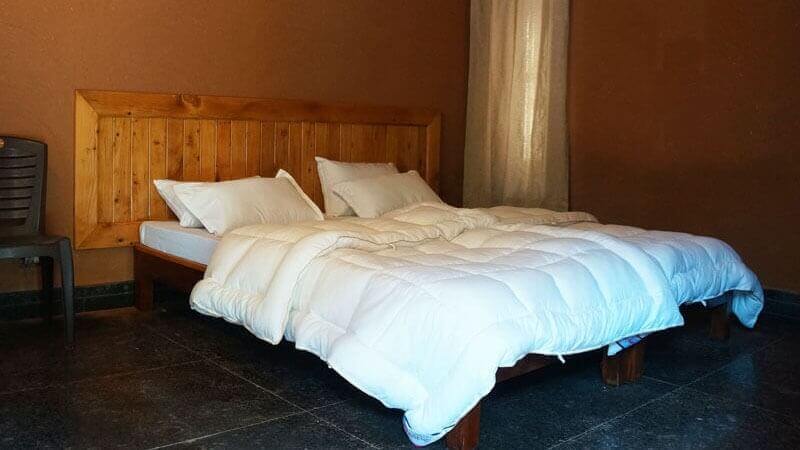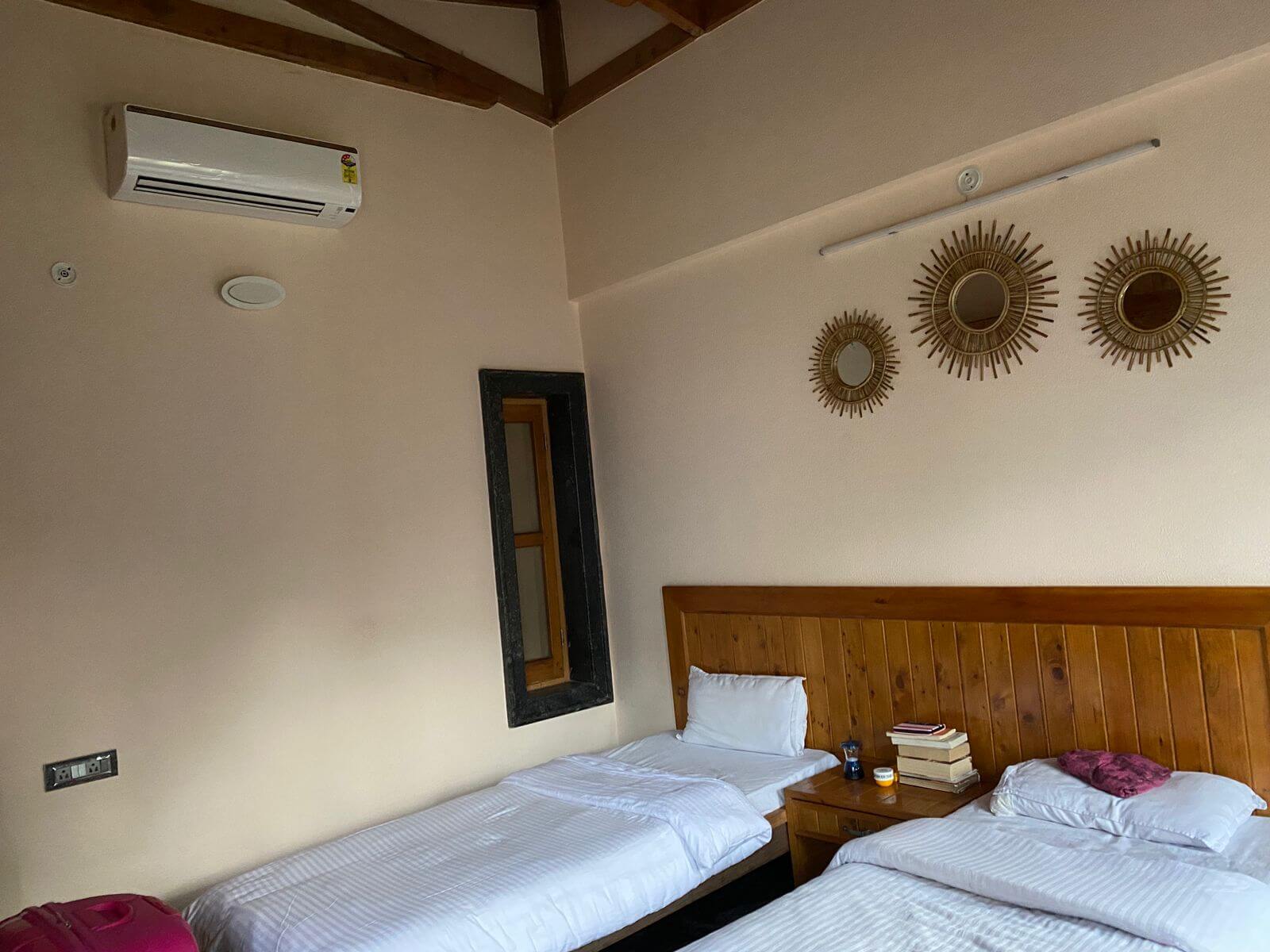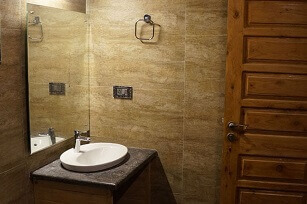 Booking and Refund Policy
You will need to pay a 20% non-refundable deposit to process your reservation. Once your payment has been processed, you will receive an email confirmation.
Your remaining 80% fee amount will be due upon arrival. Once the fee has been paid, it cannot be refunded.
Should you be unable to attend the course according to your initial booking, you can hold the booking for a period of 12 months.
Abhayaranya Yoga Ashram, Reviews
Reviews of Abhayaranya Yoga Ashram's retreats, beginner courses, and teacher training programs.
" Participated in a 7 days yoga retreat in Rishikesh at Abhayaranya Yoga Ashram. It was an amazing experience with the courteous people I met. The classes are the perfect combination of strong yet restorative and all teachers I've had were wonderful and have offered just the right amount of support. My gratitude goes out to all of them and I look forward to seeing you again at this beautiful ashram in the future. " ( Jack Will )
" Deeply humbled and touched by the experience. It was a beautiful 3 day retreat in an amazing space. The beautiful souls I met, the wisdom, the spirit, the vibes, the simplicity, the love, the food, relentless effort to make a difference. Thank you and I am eternally grateful to the universe for the journey and the new beginning. " ( Piyali Chatterjee )
" I have completed my 300 hours of teacher training from Abhayaranya and my experience has been nothing but soul-fulfilling. The yoga ashram is located on the hill away from the city that makes it one of its kind. Teachers are very knowledgeable and always ready to extend help, the place is neat and clean, staff is super helpful and the food is just awesome. I heard that Abhayaranya is also opening their yoga retreat program. Cannot wait to be back there again. Best wishes team Abhayaranya " ( Sudhir Jakhar )
Ready to Start Your Yoga Journey? Join Our Beginners Yoga Courses in Rishikesh at Abhayaranya Yoga Ashram And Experience All of The Amazing Benefits That Come with Our Holistic Approach.
Book Now
FAQs - Yoga for Beginners in Rishikesh, India
1. How much does it cost to take a beginners yoga course?
---
Beginners yoga course fee in Rishikesh at Abhayaranya Yoga Ashram ranges from US$ 500 to US$ 1050 and includes lodging and meals.
2. What kind of accommodations are provided for students during the course?
---
Students can select between a private room and a twin-shared room with an en suite bathroom. There is hot and cold running water in every room.
3. Is beginner's yoga good for weight loss?
---
Yoga is a great way to lose weight because beginners who need movement can practice it more often, which will result in constant physical activity. Yoga, when combined with healthy eating is effectively beneficial as it not only keeps your mind and body healthy but also helps you lose weight.
4. Which is the easiest yoga for beginners?
---
Hatha yoga is considered as the best and the easiest yoga style for beginners. This gentler form of yoga typically involves holding poses for a few breaths while maintaining a focus on posture improvement. Beginners who are new to yoga are said to benefit most from Hatha yoga because of its slower pace.
5. How many times a week should a beginner do yoga?
---
Newbies to yoga workouts should plan to log two or three yoga sessions per week to start. This will ensure that your body gets used to the stretches and poses that you'll be working on as you move forward in your journey.
How long or short should your practice be? This is entirely up to you – most people practice for 15-60 minutes. There's no right or wrong. If you only have time for a short 10-15 minute practice before work or after a workout, that's absolutely fine, go for it!
Yoga is more than asana. The 8 limbs of yoga teaches that it goes beyond the mat and the physical body and into mental and spiritual practices. Yoga, in various forms, is essential for health and wellness.
6. How do I start yoga at home for beginners?
---
If you're not sure exactly how to introduce yoga into your day to day life, here are some easy tips to get started.
Start with Acceptance
Release Expectations
Understand the Core of Yoga
Notice Your Breathing
Get Comfortable in Stillness
Learn Basic Yoga Poses
Find Beginner Classes
Convenient time, comfortable place, empty stomach, yoga wear simple, warm up, be gentle in movement and mental focus (long game of consistency and not push hard or fast), be safe and healthy, maintain right attitude, consistency, try various styles (including off-the mat yoga practices), have fun, include friends and family.
Enhance your practice and achieve new heights with Abhayaranya Yoga Ashram's beginners yoga courses, which focus on breathing, postures, and balancing exercises to optimize your potential and awaken your inner strength.
Book Now