21 Days Ayurvedic Detox Yoga Retreat Program in Rishikesh, India
Ayurvedic detox treatment is a special focus program from Abhayaranya (a yoga village and retreat center located in Rishikesh) that emphasis on rejuvenating the body and mind of a modern-day professional from day to day stress and running around of work and life. The focus is on removing toxins from the body and strengthening the immune system; while equally creating space in your mind towards conscious thinking and mindfulness.
Ayurvedic detox treatment is an effective alternative healing method based on our ancient heritage. The program can be taken anytime and it will definitely benefit you when you feel mental stress, anxiety, or other forms of fatigue or experience health-related issues.
Overview
| Program Name | Ayurvedic Detox |
| --- | --- |
| Duration | 21 Days |
| Accommodation | Private Room |
| Food | Vegetarian Meals |
| Language of Instruction | English |
| Venue | Abhayaranya Yoga Ashram |
| Location | Rishikesh, India |
Highlights
Introduction to yoga tools and techniques to manage fast-paced lifestyle challenges
Tips to detox from virtual world of technology and fast-paced lifestyle
Yogic internal body cleansing
A brief introduction to yogic asanas, meditation techniques and the yogic philosophies
Trekking to Temple and/or a Waterfall to soak in the nature along with pristine atmosphere of the Yogpeeth
Spiritual and Philosophical discussion on the learnings from Bhagwad Gita, Upanishads and Patanjali Yogasutra among others
Fee Details
Retreat Fee Includes:
Three vegetarian meals a day
Daily yoga asana classes
Daily pranayama and yogic cleansing
Daily meditation
Pick-up service From Dehradun Airport at guest's expense
Eligibility
You can enroll in the retreat if you:
You have no yoga experience and just wanted a sneak peak in the zen world
You are keen to attend a 7 or 21 days program but not sure if this is worth the time and money. 3 days retreat will give you a clear perspective of the program construct and certainty for enrolling in the long-term program
If you are a regular yoga practitioner but have very limited time at hand and need a break from a fast-paced lifestyle
Aged between 18 years to 75 years
Children, families, students and/or backpacker
No prior yoga asana or meditation experience is required
Planning to spend some time in the nature and connect to your inner self
Daily Schedule
Please note : that the below schedule is followed during 21 days Detox retreat with some exceptions
Based on the therapies and treatment prescribed by the Ayurveda doctor, you will be advised whether you should avoid a certain class and take full rest etc.
The days in between treatment or therapies, you will be attending all the sessions as per the below schedule
The usual schedule will be followed inline with the Ayurveda treatment and therapies planned on that day
| Time | Activity |
| --- | --- |
| 06:00 am | Wake up |
| 06:30 am to 06:45 am | Yogic Cleansing (Jalneti) |
| 06:45 am to 07:00 am | Mantra Chanting |
| 07:00 am to 08:30 am | Asana, Pranayama and Meditation |
| 09:30 am | Breakfast |
| 11:00 am to 12:00 pm | Ayurveda Therapy |
| 12:00 pm to 01:00 pm | Wokshop/in-house activities * |
| 01:30 pm | Lunch |
| 05:00 pm to 06:30 pm | Asana and Meditation |
| 07:30 pm | Dinner |
| 10:00 pm | Lights Off |
* Daily activity ranges from workshop on yoga and/or Ayurveda on variety of topics to spiritual discussion to exploration of in and around area. Schedule will be available during your check-in.
Abhayaranya Yoga Ashram, Accomodation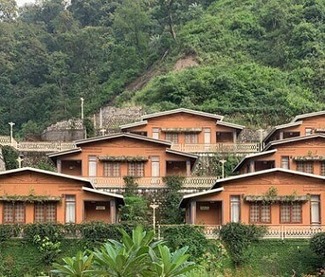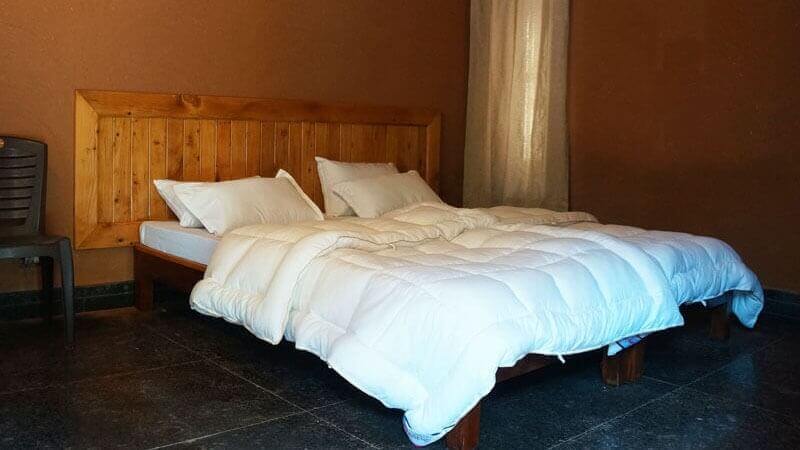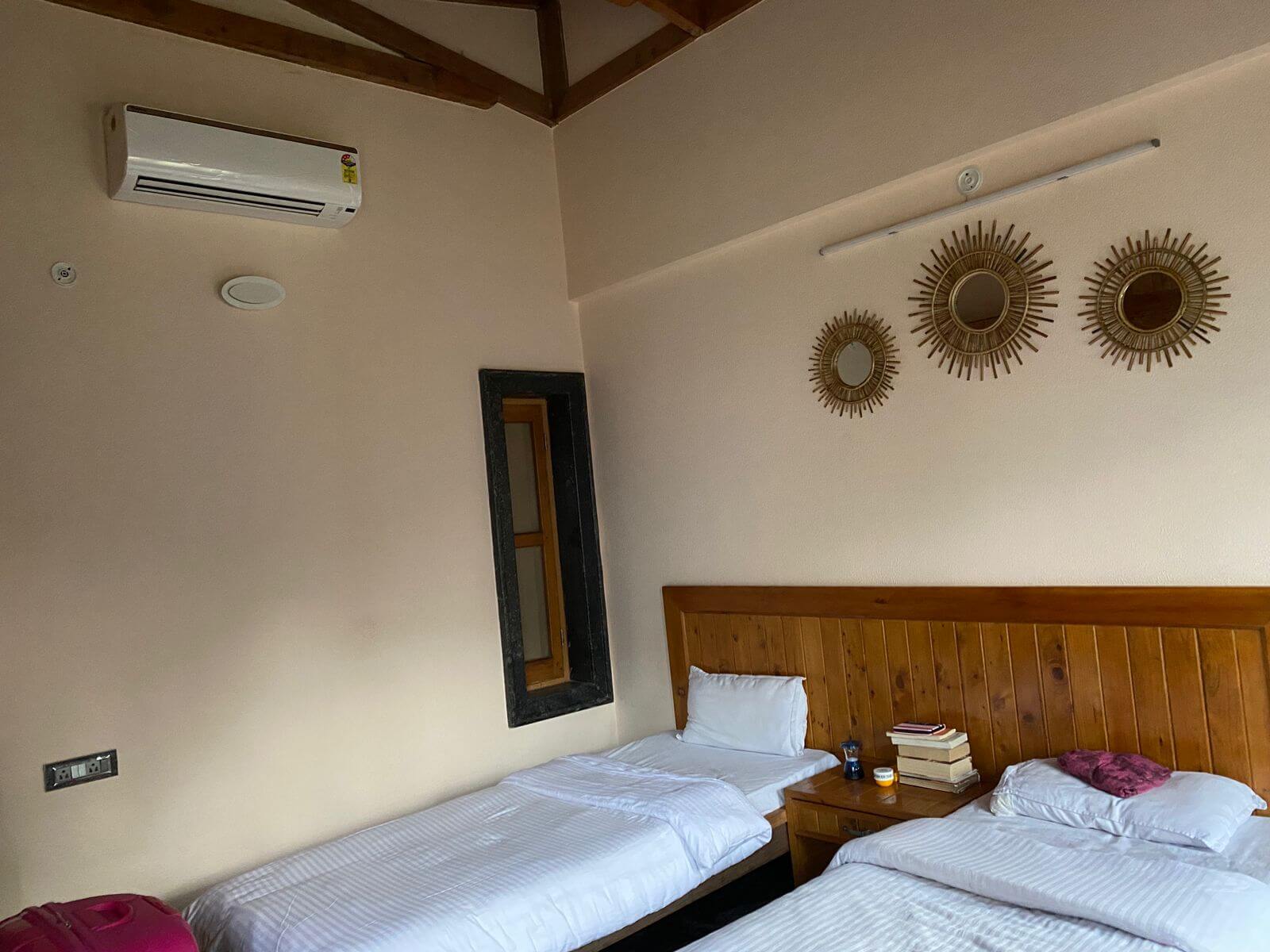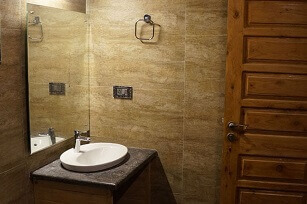 Food & Drinks
Three vegetarian meals are served per day, designed by an Ayurveda nutritionist to make sure each meal served is perfectly balanced.
Tea and coffee joints are at common areas for you to enjoy a hot drink at any time of the day.
A cafe on-site to enjoy afternoon masala chai/coffee with local and migratory birds and butterflies fluttering around.
Non-vegetarian food (including eggs), alcohol and smoking are strictly prohibited. Consumption of any type of intoxication product is NOT tolerated at Rishikesh Yogpeeth.