Ayurveda Retreat with Yoga & Meditation in Rishikesh, India
Abhayaranya Yoga Ashram offers 3, 7 & 14 days Ayurveda Retreat in Rishikesh with complimentary yoga and meditation classes. A vegetarian meal plan and private room accommodation are included in the retreat package.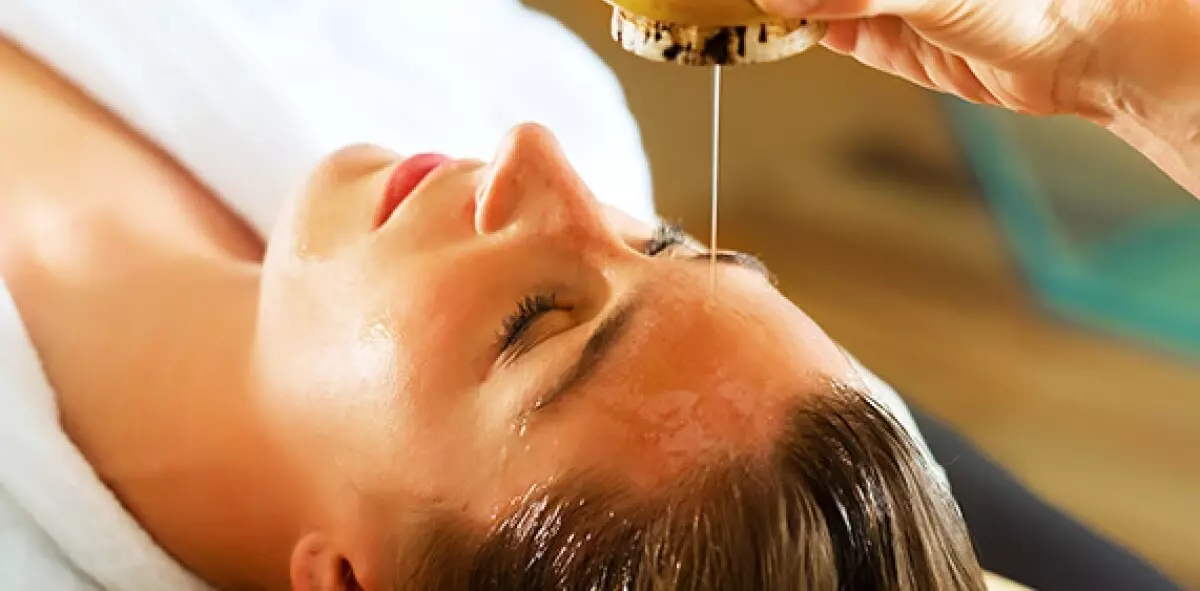 Ayurveda Retreat, Overview
If you are looking for a health and wellness experience, look no further than Abhayaranya Yoga Ashram's Ayurveda Retreat in Rishikesh. The retreat is designed to offer you the long-term benefits of rejuvenating Ayurvedic therapies and massages combined with yoga and meditation classes. Here, you can embrace nature while taking part in offbeat activities such as river walks, yoga and meditation. With the picturesque Patna Waterfall nearby, this could be your opportunity to peacefully get back on track and renew your energies again.
Choose your pick – Ayurveda Retreat for busy lifestyle :
We appreciate the time and age we are living in and a constant struggle to keep our mind, body and soul aligned. The critical ingredient to make the recipe of life success is time. Time is a real struggle for our generation, hence keeping our busy lifestyle in mind Abhayaranya Yoga Ashram has come up with Ayurveda retreats just to suit your requirements. We offer 3 day, 7 day, and 14 day residential retreat options for you to choose from.
Ayurveda Retreat in Rishikesh - Duration & Fee
| Duration | Fee in US$ | Fee in INR |
| --- | --- | --- |
| 3 Days Ayurveda Retreat | US$ 300 | ₹21000 |
| 7 Days Ayurveda Retreat | US$ 600 | ₹40000 |
| 14 Days Ayurveda Retreat | US$ 1100 | ₹75000 |
( * Ayurveda Retreat fee in ₹/INR is applicable for Indian Citizens ONLY )
Important Note: It is strictly prohibited to consume alcohol, non-vegetarian food (including eggs) or smoke on the premises or consume any intoxicating product. Abhayaranya Yoga Ashram strictly prohibits such activities and does not tolerate any such behavior.
What is Included in the Ayurveda Retreat Fee:
Twice a day Yoga, Pranayama & Meditation practice

Daily workshop on various topics related to yoga, ayurveda, health, mindfulness, spirituality etc

Cottage style private accommodation, ensuite bathroom with hot and cold running water

3 Vegetarian meals per day + tea/coffee

Ayurveda massages - relaxation and therapeutic massages to choose from

Private consultation with Ayurveda doctors and various Ayurvedic treatments (as per doctor's recommendation)

Everything required for Yoga practice is provided, for e.g, Yoga mat, bolsters, straps etc

Free Wifi connectivity
Not included : Pick-up service from Airport or any other destination (can be arranged at guest's expense)
You won't find a better Ayurvedic retreat in Rishikesh than at Abhayaranya Yoga Ashram.
Book Now
3 Days Ayurveda Retreat Fee - ( US$ 300 / ₹21000 )
The 3-day Ayurveda retreat has been designed to give you a peep into yoga and Ayurveda. This short term Ayurveda retreat is ideal if you don't have much time but want to relax quickly. All you need to do is take a break from your hectic lifestyle and book the three-day Ayurveda retreat package to enjoy some Ayurveda massages and therapies as well as learn some relaxation techniques through meditation and yoga.
Apply Now
7 Days Ayurveda Retreat Fee - ( US$ 600 / ₹40000 )
A 7-day Ayurveda retreat provides a good opportunity to bring balance into your life through Ayurveda therapies, detox, massage and meditation so you can destress and feel re-energised. We also provide an integrated approach of yoga, massage and therapies for treatment of common ailments & most lifestyle diseases like diabetes, hypertension. You will get the time to enjoy the natural surroundings at Abhayaranya Yoga Ashram and discover Haridwar alone while taking time to pause, reflect, and make positive changes.
Apply Now
14 Days Ayurveda Retreat Fee - ( US$ 1100 / ₹75000 )
14-day comprehensive Ayurveda Retreat is like a healing journey where you will be able to re-evaluate your health and wellness. You will be able to fully understand the negative impact stress and a fast -paced lifestyle can have on you. At the comprehensive Ayurveda retreat you will receive personalized Ayurveda therapy and massages. You will be able to master yoga, mindfulness and pranayama to overcome health issues and stress. The Ayurvedic food will not only help you detox but will also help balance the doshas.
Apply Now
Daily Schedule
Please note that the below schedule is followed during Ayurveda Retreat with some exceptions:
The Ayurvedic doctor will advise you whether to avoid a certain class and take full rest, depending on the therapies prescribed.
Ayurvedic treatment and therapies will be provided on the same day in accordance with the usual schedule.
You will have the opportunity to attend yoga sessions in between Ayurvedic treatments.
| Time | Activity |
| --- | --- |
| 06:00 am | Wake up |
| 06:30 am to 06:45 am | Yogic Cleansing (Jalneti) |
| 06:45 am to 07:00 am | Mantra Chanting |
| 07:00 am to 08:30 am | Asana, Pranayama and Meditation |
| 09:30 am | Breakfast |
| 11:00 am to 12:00 pm | Ayurveda Therapy |
| 12:00 pm to 01:00 pm | Wokshop/in-house activities * |
| 01:30 pm | Lunch |
| 05:00 pm to 06:30 pm | Asana and Meditation |
| 07:30 pm | Dinner |
| 10:00 pm | Lights Off |
* Daily activity ranges from workshop on yoga and/or Ayurveda on variety of topics to spiritual discussion to exploration of in and around area. Schedule will be available during your check-in.
What to expect from an Ayurveda Retreat
1. First Step is Ayurvedic diagnosis of your body at its current state :

---
After you have booked into our one week or longer two- week retreat, our very experienced Ayurvedic doctor at Abhayaranya Yoga Ashram will examine you and diagnose any underlying health issues you have. The doctor is also likely to ask you about your lifestyle and diet, personal and professional life as well as any medical issues you could be suffering from. This will enable the doctor to get a full picture of your overall health and mental state. They will draw a conclusion about your doshas, health of your tissues, digestive system, and state of immunity. After this a personalized plan will be drawn keeping in mind which doshas are in excess and which therapies and yoga asana are likely to benefit you.
2. Daily Ayurvedic Massage and Therapies :

---
Based on the recommendations of the doctor, your treatment will begin where your doshas will be balanced and immunity strengthened. You will receive some therapeutic oil or mud massages.The type of massage and oils used will be in keeping with the type of treatment you require according to the diagnosis.
3. Food is Prepared Keeping Doshas in Mind :

---
At Abhayaranya Yoga Ashram, we understand the importance of food and nutrition. We prepare a well-balanced diet that will strengthen your body and mind and which will lead to good health. We ensure good quality food where the ingredients are always fresh and mostly grown on our premises. The food is cooked keeping in mind the Ayurveda principles of time, season, correct combination, quantity, and preparation so it leads to healing. We also ensure that the meals are served in surroundings that will help you to enjoy the food with full appreciation. You will be able to understand what food your body needs and will be able to continue with Ayurveda meals when you return home.
4. Yoga in Combination with Ayurveda :

---
The program of the Ayurveda retreat incorporates daily Yoga practice. These asanas will be based on your health condition, age and future health state. At Abhayaranya Yoga Ashram, Ayurveda and yoga complement each other, and both contribute to wellness. Doing yoga can definitely help people improve physical and mental health. Yoga, mindfulness and breathing techniques are taught to overcome chronic stress patterns. Ayurvedic treatment combined with Yoga and Ayurveda-based meals lead to holistic healing both physically and mentally.
5. Ayurveda and Mindfulness :

---
The purpose of the Yoga retreats and Ayurveda therapies is to bring peace and balance to the mind and healing to the body. Mastering silence and opening the mind to positive thoughts through pranayama and meditation bring mental clarity and peace of mind. According to Ayurveda Sattva, Rajas and Tamas are the Gunas or qualities of the mind wherein Sattva is the energy of clarity and harmony,Rajas is movement and agitation whereas Tamas is inertia and contradiction. Therefore, Ayurvedic therapies are used to increase the sattva guna which is the most desirable quality and which can lead to overall wellness.
Abhayaranya Yoga Ashram, Accomodation
(*All bedding & toiletries are provided.)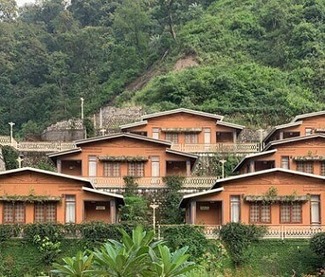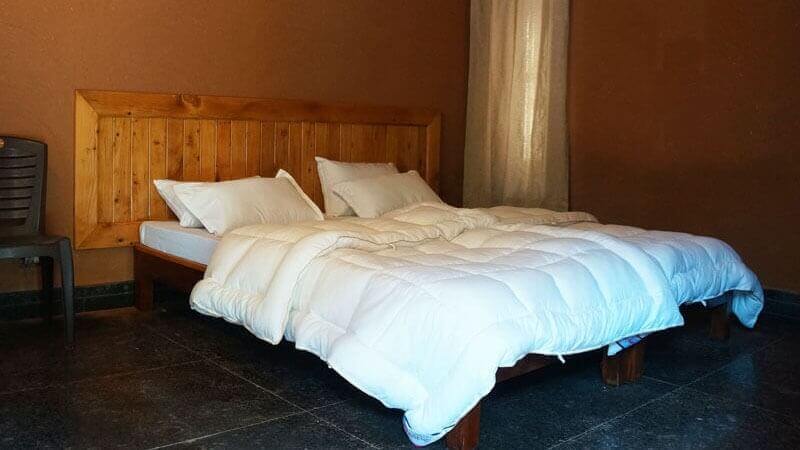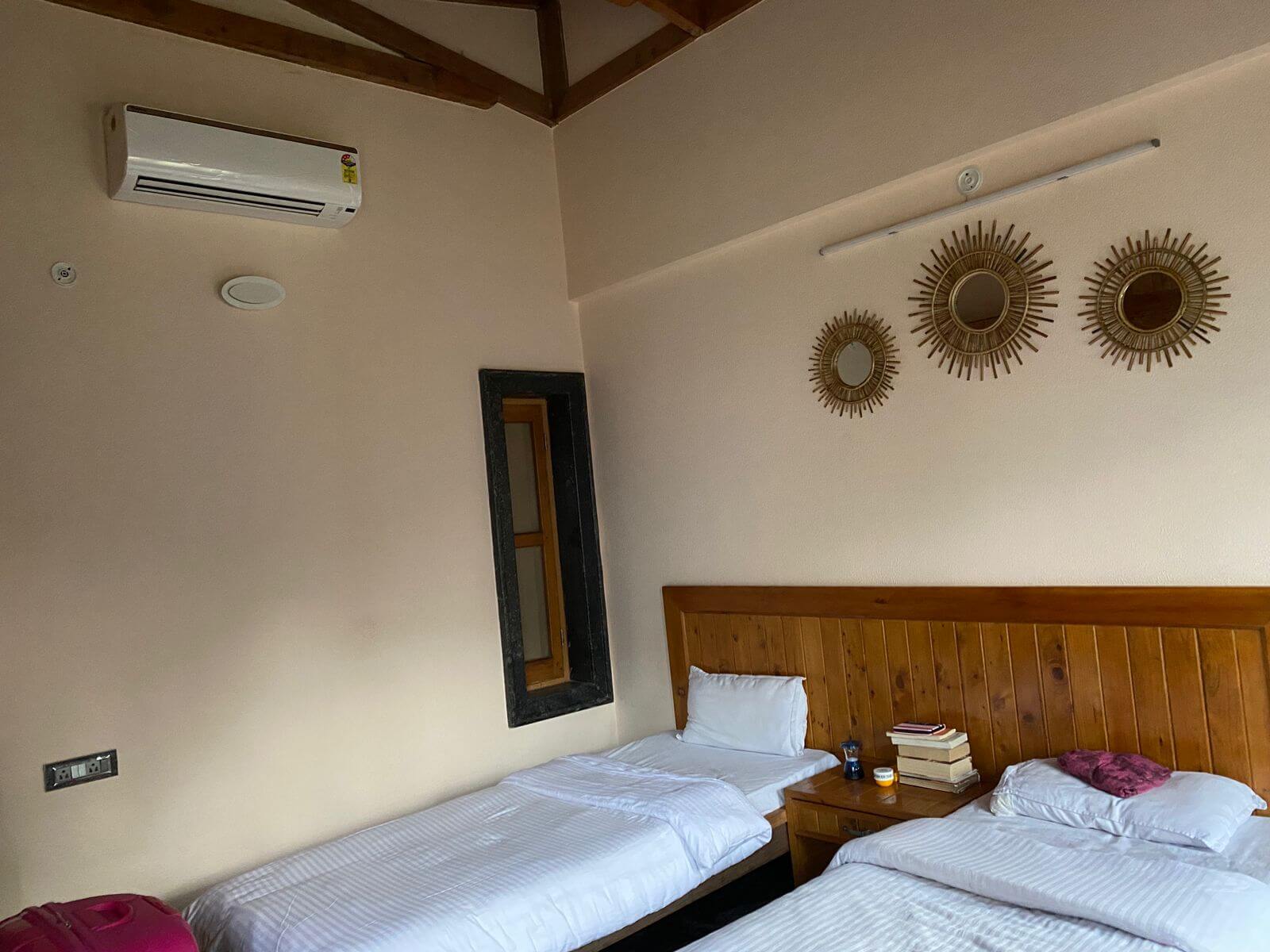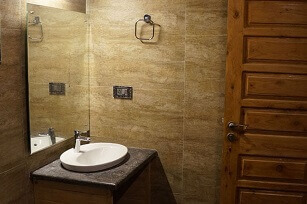 FAQ
1. Why should you attend an Ayurveda Retreat?
---
Attending an Ayurveda Retreat in the very yoga capital of the world allows one to go through a digital detox. Ayurveda which essentially means "the knowledge of life" is a precise combination of science and the art of healthy living. An Ayurveda Yoga Retreat in the capital of ancient yoga and ayurveda will provide a safe sanctuary to allow a deeper physical and emotional withdrawal from the stress and strains of daily life.
2. What are the benefits of Ayurveda?
---
Helps to reduce the toxins in the body
Helps to clear up energy
Helps in stronger digestion
Helps to keep body, mind healthy
3. Why do people choose Ayurveda?
---
Ayurveda, which was developed more than 3,000 years ago in India, is one of the world's oldest holistic healing systems. It is based on the belief that health and wellness depend on the intricate balance between the mind, body and spirit. It has therapeutic efficiency against the most chronic diseases where modern medicines are ineffective.
4. Which are the 5 principles of Ayurveda?
---
Ayurveda employs the Pancha Karma, composed of five karmas (actions) that are used for removal of toxins from the body. They are the Virechan (purgation through use of powders, pastes or decoction), Vaman (forced therapeutic emesis by use of some medicines), Basti (use of enemas prepared from medicated oils), Rakta moksha (detoxification of blood) and Nasya (use of medicines like decoctions,oils, fumes through nasal route).
Are you feeling stressed and exhausted due to your hectic life? An Ayurveda retreat in Rishikesh is just what you need.
Book Now